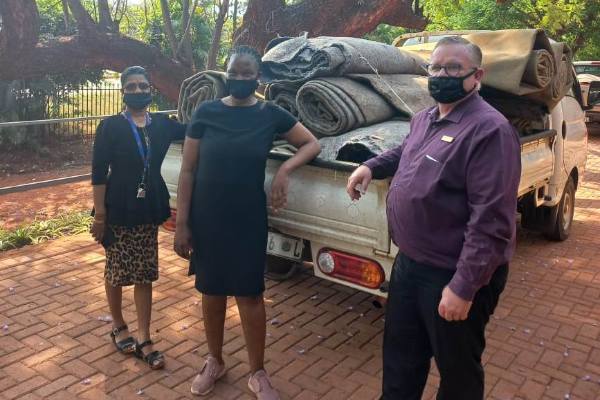 Wednesday, September 29, 2021
On Wednesday, 29 September 2021, Khoroni donated R5000 worth of "previously loved" carpets to Tabernacle of Joy and Liberty Drop-In-Centre.
The Centre is based in Mavhunda Village in Thohoyandou, where it caters for 105 children between the ages of 5 and 18 years. Ten staff members assist each day to provide food, after school care and assisting with school homework.
"The carpets will be used to cover the cement floors in the centre and will assist to give the centre a homely feeling", said Joyce, the CEO of Tabernacle of Joy and Liberty Drop-In-Centre
Pictured:
Saroj Naido (Asst. Food and Beverage Manager), Joyce Khorommbi (CEO of Tabernacle of Joy and Liberty Drop-In-Centre) and Mark Single (Khoroni's General Manager)
Mphephu Street, Thohoyandou, South Africa
THE KHORONI HOTEL, CASINO RESORT IS OPEN 24 HOURS A DAY 365 DAYS A YEAR